NEWS & EVENTS
INTERVIEW WITH ROUND THE WORLD SAILOR JEAN-LUC VAN DEN HEEDE
15 September 2022
A former maths teacher who turned full-time sailor has circumnavigated the world six times, first in 1886, then again in 1990, 1993, 1995 then in the wrong way in 2004 and most recently in 2018. Jean-Luc Van den Heede has competed in the Vendee Globe twice finishing third and second respectively, before going on to win the Golden Globe Race, a race established to mark 50 years since Robin Knox-Johnston first circumnavigated the globe non-stop and unaided.
We caught up with Jean-Luc ahead of the 2022 edition of the Golden Globe Race.
You are no stranger to solo sailing. What made you want to take part in the golden Globe 2018?
This is a race completely different to every other race of this time. It's not about the money or having the biggest budget. The organiser gives competitors a choice of 20 boats, potential participants then had to go and find their boat on the market and prepare it for the race. The race was anybody's to win, not the person with the most money. The sailor who prepares their boat the best would win.
Preparation is very different to other races. When competing in the Vendee Globe, there is a team of people around you, this couldn't be more different. You are competing as a team of one in an old boat, there are no computers on board, and no one advising you on the weather. It's sailing in its simplest form, just the skipper, the boat, and a windvane to help drive the boat, no electric pilot, no electronic aids. All the skippers can do is try to be the best.
Preparing for the GG 2018 you performed the refit on your Rustler 36. What was your thinking process behind this and how did BSI get involved?
Jean-Luc brought his Rustler 36 in 2016, throughout the interview it was clear that boat preparation was imperative. In the three years he had his Rustler 36 prior to the start it had a complete refit of the mast, BSI wire rigging, sails, ropes and engine, no stone was left unturned to get him to the start line of the race in 2018.
Prepare your boat and arrive at the start line as the best prepared boat in the fleet and choose your equipment wisely. BSI A/S has been involved in a number of my earlier campaigns. I know the team there and have visited their factory in Denmark on several occasions. Their rod and wire rigging have been on several of my yachts as have Moonlight hatches, and Easy Block was on Algimouss which went five times around the world plus 10 transats! I capsized during the Golden Globe 2018, a turn of events that could have put me out of the race. However, due to my preparation and the choices I made in the three years prior the start this capsize didn't break the boat or me and we could continue.
Jean-Luc went on to talk about good preparation before and the mental strengths needed. Seven months alone can be tough. Your only form of communication is with a hand-held radio that you report to the race organisers. Having the ability to keep your spirits up on board is crucial.
What did you find most challenging about your campaigns?
You want to always do more than what you have done… Before solo sailing I raced a lot with a crew. I entered the race Mini-Transat twice, then in the BOC around the world before the Vendee Globe. I wanted to go longer and go bigger!
The BOC has four stops, the Vendee has none. The races are all different.
I went four times the 'right way' that was enough. I then challenged Chay Blyth's record the 'wrong way' in 2003/2004 and I beat his record and one I still hold today of 122 days 14 hours 3 minutes 14 seconds. Adrién, my 85ft sloop in which this accomplishment was made had a BSI rod rigging and Moonlight hatches.
That was me done.
Then came the Golden Globe announcement. It was different to any of the circumnavigations I had done. I decided to do it. It was a new challenge.
Something clearly draws you to solo sailing, what's the one piece of advice you would give to someone looking to get into solo sailing?
I have three!
1. You must absolutely want to do it and make it a big part of your life.
2. Prepare your boat. Very very well prepare your boat. It must be perfect.
3. Time. Have time to dedicate to it.
Were you tempted to join the 2022 race? Will you be there at the start?
I'm not tempted, I am too old. I will be there at the start.
In 1969 Robin Knox-Johnston circumnavigated the world in 312 days, in 2018 Jean-Luc Van den Heede using the same technology as Knox-Johnston, circumnavigated the world winning the race in 211 days 23 hours 12 mins.
On 31st August 2022, Jean-Luc stood alongside fellow world-famous sailors Sir Robin Know-Johnston and Chay Blythe as they along with a total of 28 sailors were named on the Cape Horners roll of honour in Sales d'Olonne. Congratulations Jean-Luc, thank you for taking the time to talk to us and we wish you all the best.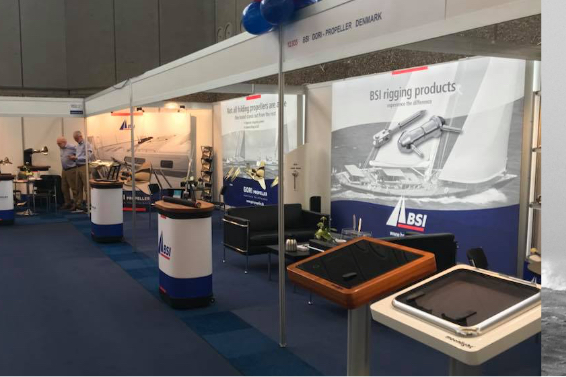 Trusting Mother Nature to carry you safely across the seven seas is a lot easier with top of the line components on board.
Specialist maritime equipment
We design, manufacture and market specialist equipment for cruising, racing, and super yachts. Our goal is, and has always been, best-in-class products with the strength to handle anything a raging sea can throw at them, without compromising control or speed.