NEWS & EVENTS
BACK-TO-BACK WINS FOR BSI RIGGED NAKUPENDA
31 August 2023
Safe Harbor Race Weekend is the only regatta in North America to include a superyacht racing division. This year's edition took place from the 11th to 13th August, over three days, nine superyachts 72ft up to 138ft took to the water. The weather gods threw everything at the crews from champagne sailing, to fog to the regatta ending in light steady conditions. It was a regatta to test the skill of the sailor.
Owner and driver of the 109ft Nakupenda commented "It's always fun to get the superyachts out on the racecourse." This is the third year of the Safe Harbor Race Weekend which held its inaugural event back in 2021. For many superyachts in the USA, there are two main regattas, St. Barths Bucket in March and Safe Harbor in August.
Racing for the superyacht division took place on Rhode Island Sound. Nakupenda was a clear winner in Class A taking three race wins, behind her racing was close with second to fourth equal on points and fifth a little further behind.
Race Chairman Peter Craig commented that the conditions made it the most challenging and memorable event yet. In total, there were over 67 teams sailing across 11 classes. Nakupenda reported on day one that at times it took two people to handle the helm. "It's not supposed to be that way, but we're a cruising boat and it was pretty loaded up," said the owner and driver, adding the boat reached 15.4 knots of speed with the spinnaker up, a new record for the boat. Wind instruments on Nakupenda measured gusts of up to 28 knots.
"It was a total team victory. To do this kind of racing on a boat that was intended for cruising, and to do it with my wife and friends is just a dream come true."
This win at Safe Harbor Race Weekend comes after Nakupenda won both their class and overall honours at the St, Barths Bucket Regatta earlier this year rounding off a wonderful season for the crew.
Nakupenda will have a refit at the end of the season where her BSI standing rod rigging will be serviced with BSI service agent World Spar Services.
Photographs and quotes courtesy of Safe Harbor Race Weekend and Barby MacGowan.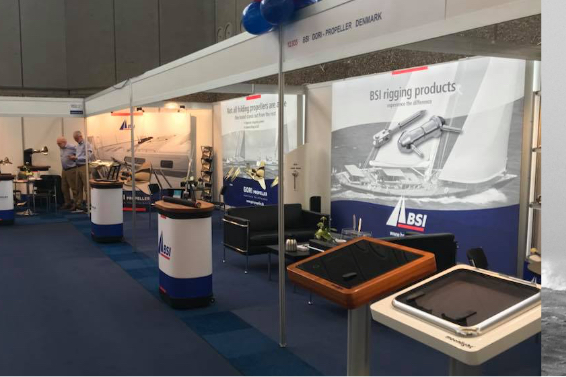 Trusting Mother Nature to carry you safely across the seven seas is much easier with high-end components on board.
Specialist marine equipment
We design, manufacture and sell specialist equipment for cruising, racing, and superyachts. Our goal is and has always been, to design the best-in-class products with the strength to handle anything a raging sea can throw at them, without compromising control or speed.