NEWS & EVENTS
1 APRIL 2022
From the 17th to 20th March 30 yachts gathered for the first time in Saint Barthelemy since 2019 for St Barths Bucket Regatta 2022.
Ulf Josefsson, Worldwide Superyacht & Custom Sales for BSI, who makes a regular appearance at the regatta once again joined as crew for SY Rosehearty. Taking the helm for the first time at this event was Paul Goodison, Laser Olympic Gold Medallists, three times Moth World Champion and crew on the America Magic America's Cup Campaigns.
"First time at the Bucket, first time in St. Barths, and first time on a Perini," said Goodison. "It was a real eye-opener to do something different from what I'm used to. The key to our success was three good days of practice beforehand. We identified some problems and came up with solutions and had a great game plan going into the regatta."
Preparation was key leading into the regatta. Rosehearty has had the same captain and engineers for many years that combined with having the same core race crew is very beneficial.
"The experience, and the yacht being kept in immaculate condition, help us avoid mechanical issues so the practice days can be focused on manoeuvres and how to get the boat to go faster.," commented Ulf.
The weather was unstable, which led to higher winds than normal and during a squall on Saturday's race, some boats saw gusts of 38 kts. High breeze, in combination with big swells on the northern side of the island, lead to a postponement on Sunday but as the breeze kept building the race committee in the end cancelled the race for safety reasons.
This year the event saw a 90-foot class for the first time which was great and hopefully, that class will continue.
BSI has supplied rod rigging, or hardware to carbon fibre rigged yachts, to virtually every single participant in the regatta except the classic schooner Columbia.
Ulf goes on to comment, "Personally, I think the greatest takeaway was to see how everyone was enjoying being back to SY racing again after a 2-year hiatus and catch up with friends from all over the world. The social side of the event was also scaled back a lot due to the continued issues with covid."
The community of St Barths were super excited to see the event that means a lot to the local community. BSI Rigging looks forward to returning in 2023.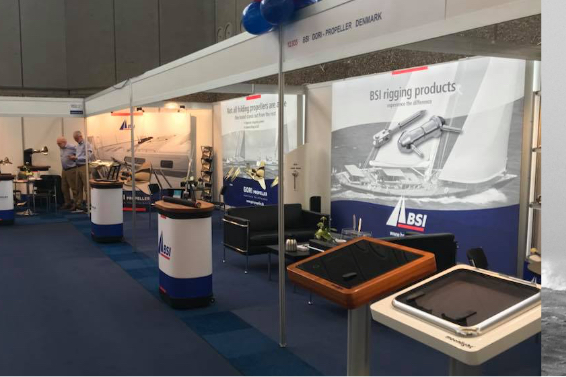 Trusting Mother Nature to carry you safely across the seven seas is a lot easier with top of the line components on board.
Specialist maritime equipment
We design, manufacture and market specialist equipment for cruising, racing, and super yachts. Our goal is, and has always been, best-in-class products with the strength to handle anything a raging sea can throw at them, without compromising control or speed.